At Travis Monument Group, we are dedicated to helping families honor and remember their loved ones with beautiful, personalized monuments. We have a reputation for our quality of work and for going above and beyond for the families we serve. Here is just a small sampling of feedback that we have received over the years:
Travis Monuments was recommended to me by a friend and I was very happy with their work. Charles worked with me on designing a custom made monument with detailed carvings. I chose them over another company I was talking to because I liked the feel of Charles' initial sketch he showed me. He also assisted me in choosing the right type of stone. We came up with a beautiful design which was completed by Rock of Ages in Vermont. The artist who carved my stone did a phenomenal job. I couldn't be happier with the work. All the people at Travis were very pleasant to deal with and always very respectful. Yes, it did take longer than I expected, it was a slow process, but in the end I was extremely satisfied with the result. I now have a beautiful piece of art that will stand for many years. I would definitely go back to them again if the need arises.
– Gary B
When my mom died in February Travis Monuments was suggested to us by St. Anthony's Cemetery in Nanuet. My dad was a veteran and had predeceased my mom. We wanted a monument that would have both their names and information on it. I worked with Alan in designing it. He was extremely helpful in explaining not only the requirements for veterans but also the cemetery requirements. Floriana was my go-to office person during the entire design and approval process. She was incredibly responsive and reachable both via email and phone, patient and understanding through several revisions to assure the monument was perfect. I would highly recommend Travis Monuments. They are simply the best at what they do — the perfect blend of quality of workmanship and professionalism. Thank You!
– Barbara B.
Dear Mr. Minozzi, I would like to take this opportunity to thank you for the tremendous help you have given me on my Eagle Scout Project. Throughout my whole project, I was able to count on you to call me back, help me with making decisions, answer my questions, and give me moral support. You played a major role in making this project idea a reality.
– Ryan Cassidy Troop 2
Travis Monuments does more than provide just a "Head-Stone" for a passed Loved one's final resting place. I am eternally grateful for their beautiful work and Help at a Most Stressful time-God Bless them.
– Mitchell Chasmar
I came upon Alan , Anthony and Charles by way of luck as much as a referral – and they are marvelous people with integrity , class and devotion to their craft ; uncomfortable to us as it may be. They handled every facet of my Dad and Moms monument as if they were Family , and I wish they were after everything they did for me and my Family. My needs went beyond the normal and they never blinked – always accommodating me with every curveball I threw them. If you find yourself in need of their craft , waste no time looking for help – just call them , and you will be able to do what you must , while they will handle everything else.
– Joe Gangone
They guided me every step of the way, leaving no stone unturned. Not only was the monument installed in a timely fashion, the craftsmanship stands out among all of the other monuments in the area. Thank you again Anthony, Charlie, Alan and Angela.
– Tracy Marinelli
Several years ago, after the death of our son, my wife and I went to Travis Monuments to purchase a headstone. I think this was the hardest thing we ever had to do. Charles took us under his wing and guided us through the entire selection process. We were very impressed with the caring and compassionate manner in which we were treated.
– Joe Falcone
Thanks to all of you who guided us through the process of designing our monument. Every member of our family is delighted.
– Anne Smith
The representatives all did an outstanding job. Our situation may have been unique because we had more than one family member involved in the process. Thank you for your patience, and understanding.
– Steve H
Dear Charles: Thank you so much for creating a beautiful monument for my daughter and husband. It gave my family and I great comfort to view this memorial and you were right, it was ok for us to put in the wording that meant a great deal to us. I want to thank you again for all your ideas and especially for the design and thoughtfulness that you extended to my family.
– Yvonne
Dear Charlie: My sons and I send our sincere thanks for your personal attention in this difficult time. As you know, our wishes are to honor Joan in the style and fashion, she bestowed on our sons. Charlie, through your guidance, consideration, and attention to detail, our wishes have been realized. Joan will forever rest in the elegance, she so justly deserves. With your help, we now can be proud, of Joan's final resting place…
– Pete & Family
Anthony/Charles: Thank you very much for the photos, and more importantly, thanks for the great work you did on my mother's memorial. It looks great. It has been a distinct pleasure working with you and knowing that this was in good hands. I also would like to thank you for the sensitivity and caring that you showed in this time, which sometime remains difficult for me… Thanks, again, and all the best.
– Cathy
Charles & Company – The monument is beautiful – everything is perfect. We had lunch with dad on Sat. You & your team are true artists! Thanks Again – we'll keep in touch god bless…
– The M Family
In my time of sorrow at the loss of my husband I was helped through the purchase of the memorial. The Travis family was very caring and helpful.
– Sue S.
Attention: Charles & Anthony
Gentlemen: I am writing to you today to let you know how very pleased I am with the stone you made for my husband, Sam Delongis, who passed away in March of this year. It is such a difficult time of your life when you lose a loved one of so many years together, and you no longer have a "partner" to talk to. Visiting the cemetery does not help when it's "just a grave" with no markers or flowers. When I picked out the stone for my husband's grave, I had no idea it would mean so much to me. Your people and you did such a wonderful job on it. It gave it life and I am comforted now in visiting the gravesite, knowing that there now is an identification to this sad and lonely piece of ground. I now have someone to talk to again, though in silence. Thank you once again for the beauty and perfection of the stone and your professional work. God bless you both.
– Jean M.
I was very pleased with Travis Monuments from the time I walked in the door until I saw the beautiful monument at my husband's gravesite.
– Mrs. Eileen G.
Dear Mr. Minozzi: On behalf of the men and women of the New York State Police, Troop T, Zone One, we would like to express our extreme gratitude for your support in making the memorial to our fallen members a success. Your generosity made this event a memorable experience, particularly for the families of those honored. Than you again. With Sincere gratitude,
– Captain Evelyn P. Mallard and all the Members of Zone One
Thank you Travis Monuments, We have had an excellent experience with Travis Monuments. Charles was very compassionate and went out of his way to accommodate us and our time line. All the staff was also very helpful.
– Marie and Ken
Dear Angelica, In these very uncertain times I feel even more compelled to write a note expressing our appreciation. Working with you to select the monument for my husband's gravesite was both comforting and professional. And – the final product exceeded our expectations. On behalf of my children and me, please accept our deepest gratitude for your care and service at this most difficult time. Wishing you health and safety during this terrible mess.
– Joanne Dunn
Thank you so very much for helping my father and I, I can't even express what this means to us. We can finally have some peace with this difficult situation.
– Kathy Shea
Thank you, dear Debbie, for your comforting help at this time of our loss of our son Jim. Sincerely,
– Grace and Bobby Barnett
Dear Angelica, Thank you for all your help with my special person (Denny). The stone is so beautiful and everything we asked for from you, and you made it all happen. When I first met you I loved you with all your special talents, you are so very good with what you do!!
– Annette and family
Dear Debbie, I visited the cemetery on Sunday and was happy to see how beautiful the monument is. It is all I hoped it would be and more. Thank you again for your patience, kindness, and advice at a difficult time. I remain grateful to you.
– Judy Bourtini
Wow! All this is amazing and very beautiful. I am so appreciative of the pictures to see everything completed. I have also appreciated working with Alan and Susan across the miles. Thank You! May you all have a blessed Christmas season!
– Martha Wing
Wow! All this is amazing and very beautiful. I am so appreciative of the pictures to see everything completed. I have also appreciated working with Alan and Susan across the miles. Thank You! May you all have a blessed Christmas season!
– Martha Wing
I am not a person who does a lot of reviews but feel I need to share my experience with Travis monuments. From day 1 they have been incredible. Trying to decide on a headstone for a loved one is so difficult. They are a compassionate group of people that made it easier to deal with the loss and decision making. I wasn't talked into to spending extra money on things we didn't need and I appreciate that very much. The headstone is complete and beautiful! It is exactly how it was sketched out. I highly recommend Travis monuments. The headstone is truly a work of art.
Travis Monuments is a first class run business. I had a very good idea of what I wanted on my monument and they were able to make my idea a beautiful reality. They were always responsive and helpful every step of the process. In current times delays are inevitable, this business is no exception, but they always answered quickly and honestly about the entire process. I cannot thank them enough for the beautiful tribute we created for our family
– Patrick Murphy
Everyone I worked with at Travis Monuments was friendly and professional. They were extremely patient with me while I dealt with many questions from family members throughout the process. The finished headstone looks fantastic.
– Eveyln Hickok
From the moment that I walked into the door, I was greeted by a very caring and compassionate staff. All of my questions were answered and addressed in a prompt manner. I am so pleased with the way my husband's monument came out. It is absolutely beautiful. Thank you for the fine work that you do. God bless.
– Jennifer
The folks at Travis Monuments were terrific to work with especially, Floriana, when I needed changes to the porcelain picture. They made a very difficult situation much more pleasant to endure. I will always appreciate the kindness and consideration they have shown me. The craftsmanship of our monument was superb.
– Steve Etienne
From the first meeting to the installation of my dad's headstone, Travis Monuments has been wonderful and responsive. They answered all of my questions, responded almost immediately to my emails and kept me informed of every step in the process. The headstone looks beautiful and I highly recommend Travis Monuments for your loved ones as well.
– Carol Ackerman
Travis monuments offered excellent service to myself and my family. It was difficult for me to even call and get this process started as the monument was for my mother and father. I called and Travis Monuments assured me that everything will be taken care of. From the first day of consultation to the placing of the monument they have informed us of every step and respected our wishes. Charlie has been wonderful to work with, the monument was absolutely beautiful. I highly recommend Travis monuments for their compassion, service and professionalism.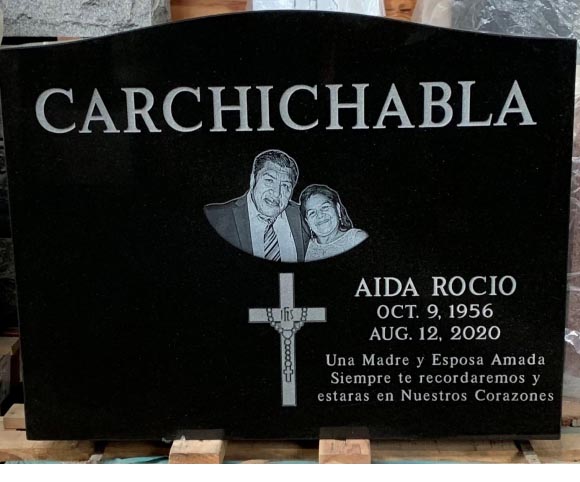 – The Carchichabla family
They handled my father's headstone after he passed away during COVID. Travis Monuments did an excellent job with the headstone. It came out just as described and I was involved the entire process. Very professional team and very understanding to those who have lost their loved ones. I highly recommend them!
– The D'Cunha Family
During the most difficult time in our lives Floriana, Beth, Alan, Charles the entire staff showed my family compassion & understanding, We were allowed to make changes to sketch before the work was done and they never got irritated or annoyed at my insistence that every detail be perfect for my Perfect mother. The stone is Flawless, the craftsmanship is excellent. We were informed of each step, the different types of headstones from A-Z, making it easier for us to choose the materials we wanted, Heartbreaking experience, thank goodness Travis monument made it a bit easier.
– Charles Family
I chose Travis because they have been a fixture on Route 59, Nyack forever. My neighbor also chose Travis 2 years ago and was very happy with her choice. I was not disappointed. From our first visit to the installation of the headstone, everything went smoothly. At such an emotional time it was a relief to work with such professional and responsive people.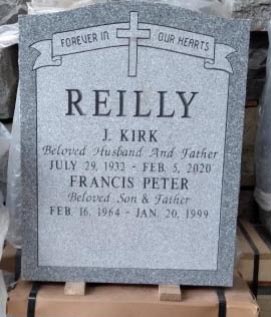 – Julie Reilly
We went to the cemetery tonight to see the monument. It is more beautiful then we could have imagined. The hand carved rose is amazing and our name on the back stands out from the road just as we had hoped. Everything is perfect. My parents met us there to see it as well. They go to the cemetery daily on their drive thru Verplanck. My dad is 85 with many health issues and he was worried he wouldn't get to see it. They had not seen the sketch, the proof or the pictures so they had no idea what was designed. They were just amazed. They loved everything about it. My mom was in tears.
We can now make arrangements to have Michael's ashes buried and his family and friends will have a beautiful memorial to visit.
Please pass along our sincerest gratitude to every person on your team who played any part in this process – from designing, to communication, to carving to installation. Thank you ALL so very much.
– Charlene and Mike
1
2
3
4
5
6
7