At Travis Monument Group, our skilled artisans use a variety of methods to add lettering or design elements to a new or previously existing memorial. Our experienced professionals are also able to create legacy sculptures designed to surround your loved one's final resting place with fine art.
Lettering & Engraving
Each monument we create is personalized with lettering and inscriptions. Selecting an epitaph for yourself or your loved one can be deeply personal, and we encourage you to start this process by reading our Epitaph Help page, designed to offer helpful tips and suggestions. Should you need extra assistance, our professionals are always here to help you compose the inscription and design that best fits your loved one.
At Travis Monument Group, the letters and designs we engrave are subject to a very high standard of quality and precision, ensuring that your loved one's monument will stay looking beautiful. The depth of each letter or component is measured throughout the carving process to ensure optimum legibility. Then, each monument is personally inspected for depth and consistency of cut before it emerges from the carving room.
Please be aware that depending upon the cemetery you choose, there may be additional parameters regarding engraving. We have long-standing relationships with the area's cemeteries, and we are pleased to be able to provide you with the necessary information to ensure that your monument meets any required guidelines.
Etching
Etchings are a popular memorialization option for those who would like to incorporate a meaningful scene into their memorial. We create etchings using traditional hand etching techniques, as well as precision laser technology, sometimes in combination.
Our designers are experts at artfully incorporating images directly onto stone memorials and we'll work with you to create a design that is unique to your loved one. Many families choose to include a favorite image of their loved one or add religious or nature designs. In fact, essentially any scene that you can imagine can be etched into the stone for an eternal remembrance. For inspiration, please view our etchings design gallery. We hope that these examples can help spark an idea for your loved one's unique memorial.
Sculpture Work
Our skilled artisans are also experienced in sculpture work, which utilizes a variety of materials including bronze, marble and granite. We create works of art in bas-relief, sculpture in the round and 3D sculpture.
Travis Monument Group is known for producing beautiful stand-alone statuary of the highest quality. Each sculpture is meticulously created by hand by our talented artisans and each is considered a true work of art meant to honor the memory of your loved one.
We also complete high complexity sculpture commissions for civic organizations, parks and other public spaces and are well-versed in this area of expertise. Our professionals will take the time to understand and execute your vision for sculpture at your loved one's place of rest.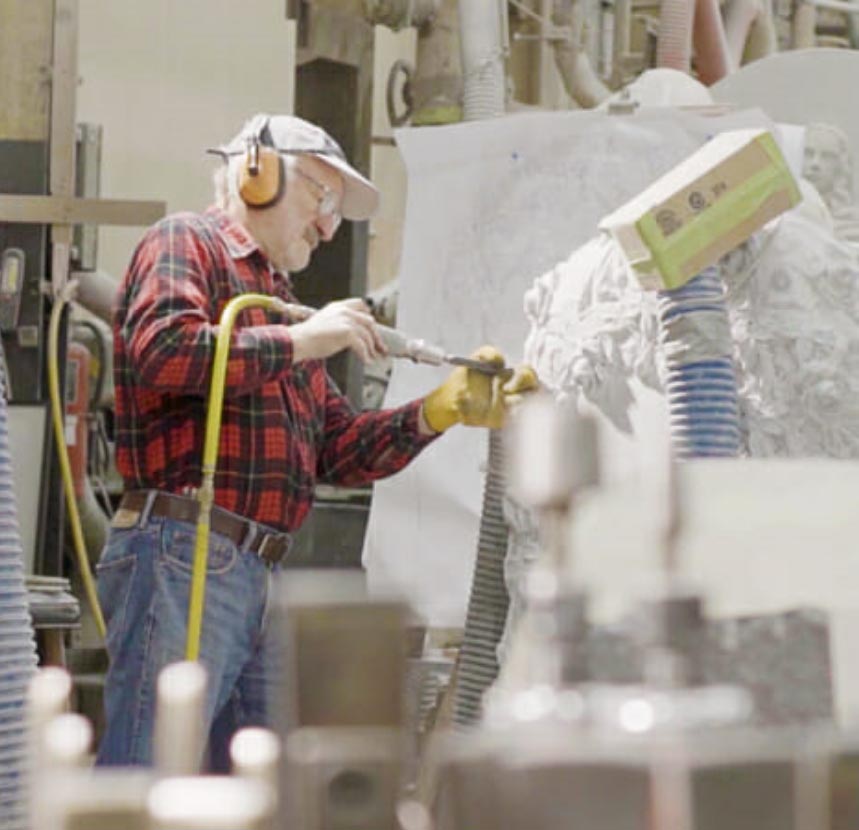 I am not a person who does a lot of reviews but feel I need to share my experience with Travis monuments. From day 1 they have been incredible. Trying to decide on a headstone for a loved one is so difficult. They are a compassionate group of people that made it easier to deal with the loss and decision making. I wasn't talked into to spending extra money on things we didn't need and I appreciate that very much. The headstone is complete and beautiful! It is exactly how it was sketched out. I highly recommend Travis monuments. The headstone is truly a work of art.
– Stella