Memorials As Unique As The Lives They Celebrate
The skilled team of Travis Monument Group's in-house artisans begins fabrication only after your approval of the final design. Then we use tried-and-true techniques to make the collaborative vision a lasting reality.
Each monument is custom-built to customers' specifications of shape, size, and color, then further personalized by artwork and design, which results in truly custom monuments as unique as the lives they celebrate. The options and variations available are nearly endless. What is consistent across all services is a commitment to craftsmanship and dedication to excellence.
WE TAKE CARE OF FAMILIES EVERY STEP OF THE WAY
Travis Monument Group offers many specialty products and services that go beyond traditional markers and monuments. We pride ourselves on being a full-service collection of experts capable of every facet of the memorial process, from design to fabrication to creation to installation to repair and restoration.
– Custom Monument Design
– Monument Repair & Restoration
– Monument Cleaning
– Private Mausoleums
– Onsite Engraving
OUR ETHICAL COMMITMENT
At Travis Monument Group, we make it a point to embody the principles of reliability, dignity and sensitivity as we partner with families and funeral and cemetery professionals. Through care and diligence spanning eight generations, we have built a reputation for excellence, one monument at a time. We follow a distinct protocol developed to ensure quality and pride ourselves on safe, efficient, on-budget projects, from simple memorial stones to large and elaborate mausoleum installations.
FAMILY
ADVOCATES
At Travis Monument Group, we make sure we do right by the families and communities we serve by working to improve the memorial industry as a whole, starting with our state. Our President, Charles Minozzi Sr., is a current member, past President and former board member of the Board of New York State Monument Builders Association (NYSMBA). His son, Anthony Minozzi, Vice President of Travis Monument Group, is a current board member, past President and Treasurer, and the current Membership Chair.
Over many years, the Minozzi's have consistently put in extra time and effort to advocate for families so they know their rights and can navigate the death care industry safely.
CODE OF GOOD PRACTICE
As members of the Monument Builders Association of North America (MBNA), Travis Monument Group takes the Code of Good Practice seriously and is proud to adhere to its tenets of ethical commitment and certification. This code specifically details how we honor warranties, how our creations are inspected for quality, how our work matches with what families agree to, how contracts are honored and how financial concerns are addressed fairly. It also discusses our obligation to stay abreast of new techniques through education and improvement programs. Learn why you should choose an MBNA member here.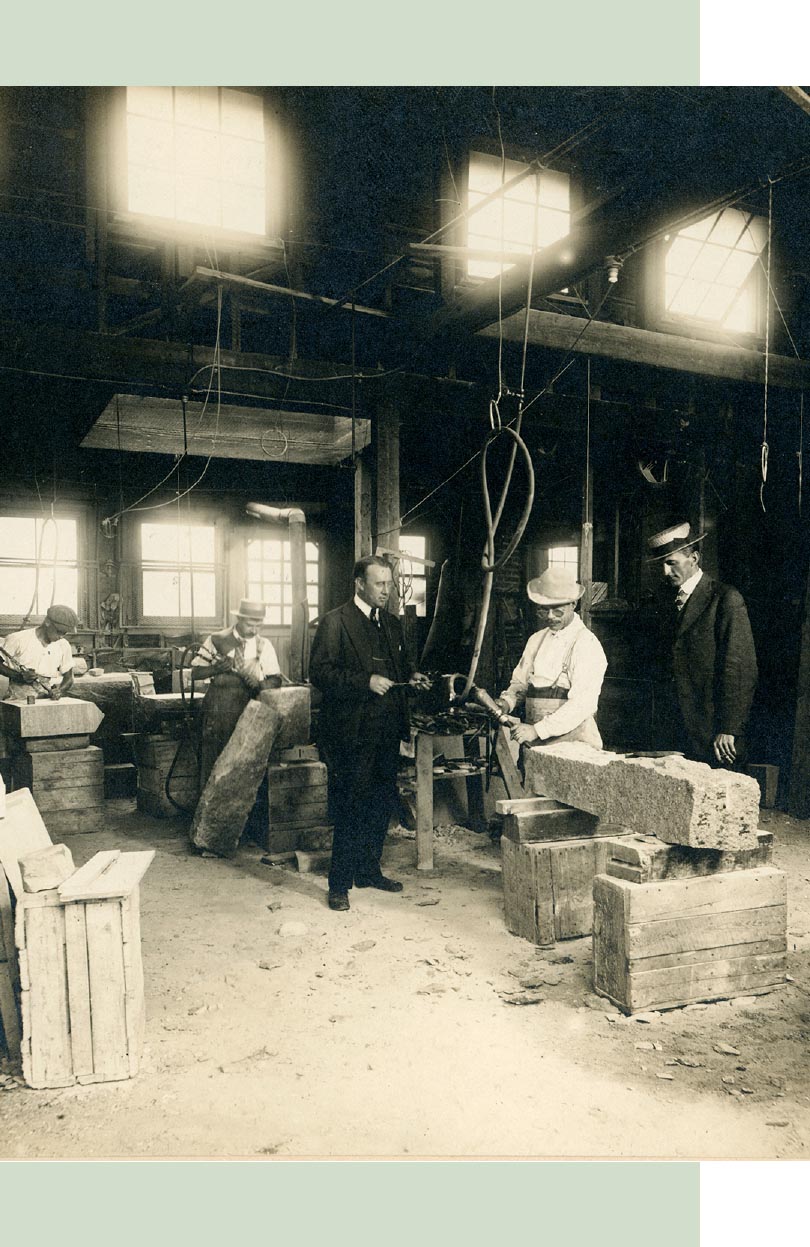 An Enduring Commitment To Craft
More than 120 years of expertise in the craft of monument and memorial building allows Travis Monument Group to custom create monuments as unique as the lives they celebrate.
Technology and software advancements have improved the efficiencies and capabilities of monument making, but they haven't altered our standards of excellence. Before any memorial leaves the facility, the shop foreman, usually a family member, takes the time to inspect every last detail by hand.
Travis Monument Group and the Minozzi family feel a sense of pride and connection to each memorial they create and believe each one bears their name in some way, right alongside the name that is engraved on it. With each monument, they take that responsibility seriously, just as their forebears did back in Naples so long ago.