Our Story
Stonecutting as a profession has a long history in the Rovelli Family, beginning before the turn of the century with Franz Rovelli. Franz was born in Italy and immigrated to Germany to continue his distinguished career, working on notable projects such as the church of St. Blaise in the Black Forest.
Franz passed on his passion for stonemasonry to his son Louis F. Rovelli I, born in Germany in 1881. During his career, Louis F. Rovelli I was a partner in the Marquis Schlitter Granite Company in Danbury and a true fraternalist, belonging to the Freemasons as a 32 degree Mason. He married his sweetheart, Freida, and was blessed with a son, Louis Kappel Rovelli, in 1909.
While Louis originally sought a career in medicine, he was forced to return home from schooling in Germany when his father passed away in 1934. He established his very own granite shop and business in 1937, becoming a third-generation stonecutter and second-generation monument dealer. He also followed in his father's footsteps by joining the Concordia Society and becoming a member of the Masons.
Louis was well known and loved in his community, taking pride in creating memorials using the highest quality granite for people of all faiths throughout the state. Louis dedicated his life to providing final tributes to the deceased, and the business still bears his name to this day as a tribute to his lifetime of service to others.
Our Work
At Rovelli Monuments, we continue the family tradition of providing outstanding service and custom design for the families we serve. We offer a wide range of memorial options including monuments, family mausoleums, markers, bronze plaques, inscriptions, memorial benches, and more. Please click below to view our design catalog for inspiration.
View Our Design Catalog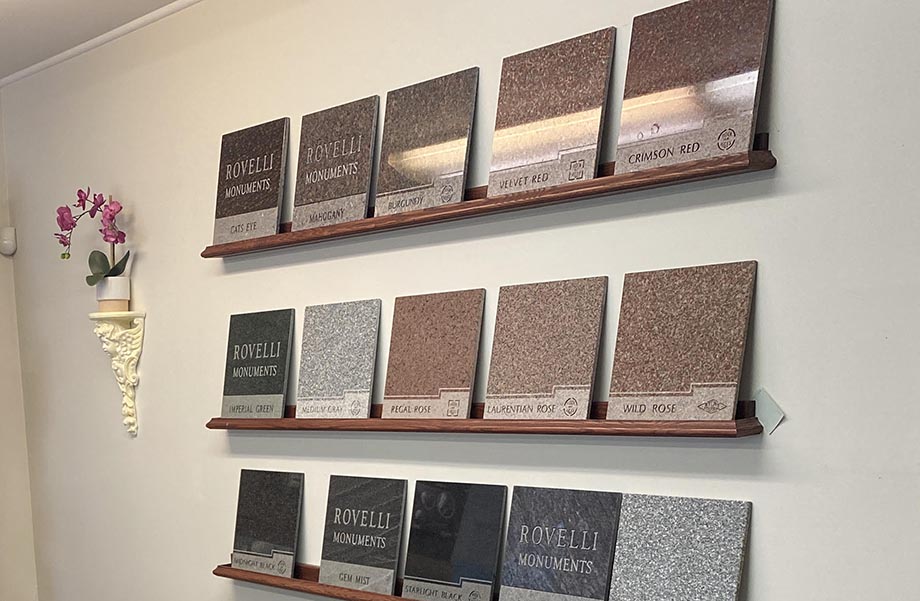 Visit Us
Monday
Tuesday
Wednesday
Thursday
Friday
9:30am-4:30pm
9:30am-4:30pm
9:30am-4:30pm
9:30am-4:30pm
9:30am-4:30pm
Weekends and evenings by appointment.
80B North Street,
Danbury. CT 06810
Get In Touch Today
"Thank you for making such a sad time for me & my family a pleasant experience. The footstone looks great & fixing my dad's crooked stone was wonderful."
– Brenda A.