We Work With You Every Step Of The Way
At Travis Monument Group, we understand that choosing a memorial for your loved one is a deeply personal experience, and our professional staff is here to guide you through every step in the process. We know that many families may not be sure where to start, but please rest assured that you are in the right place. Our caring and experienced staff will go over all your memorialization options and help you select the perfect monument to honor your loved one. We will also help you find a design to suit your budget, assist in selecting the right cemetery, and help ensure that you make informed decisions that will stand the test of time.
The 5-Step Monument Creation Process
1) We will review the location where your monument will be placed.
2) We help you select a monument that fits your finish and color preferences while staying within your budget and observing any cemetery restrictions.
3) Together we plan, sketch, and use AutoCAD to transform our ideas into 3D rendered designs, letting you see the different shapes, colors, and memorialization options available.
4) Once approved, we cut the design into a rubber template, then create a stencil and adhere it to the stone.
5) Our stone artisans then finish creating your custom monument.
What To Expect From Our Caring Staff At Travis Monument Group:
1
WE LISTEN AND CONSULT
To create a memorial that truly honors the legacy of your loved one, we will first take the time to learn about their personality and the life they lived. We will then help you select a monument configuration and walk you through all your customization options to create a memorial as unique as the life it celebrates.
WE MAKE SURE YOU LOVE YOUR DESIGN BEFORE WE START WORK
Depending on which type of memorial is selected, we provide you with either a skillfully hand-drawn or a computer-generated scale representation of your custom-designed memorial. This process allows you to see the end result in your mind's eye and make any necessary changes before we begin creating your stone.
2
3
WE HANDCRAFT EACH MONUMENT
Our in-house artisans, known as some of the best in the industry, will help you tell the unique story of your loved one through beautiful stone and intricate design. To ensure quality, we hand-pick each stone to carve — which can be any size or shape — and our team of craftsmen uses various engraving techniques to create the careful detail of your approved design.
WE PERSONALLY INSTALL OUR WORK
We finish the process by delivering and securely installing your custom-made memorial at your chosen cemetery site. Every monument is personally inspected by a member of senior management before it goes into the cemetery and as it is installed to ensure it stands the test of time.
4
5
WE HAVE STRICT QUALITY STANDARDS
As meticulous craftsmen, our diligence makes our work beautiful and meaningful. We've honed our skills for over eight generations and take pride in what we do, making excellence our business. Travis Monument Group's entire headstone ordering process is based on a system of quality control developed over many years. With accountability sign-offs at every phase, we ensure that each monument is designed, built, and installed to exacting standards.
Learn more about Travis Monument Group's custom monument design process and follow the creation of an actual monument every step of the way in this featured article from Rock of Ages.
Learn More
We Stand By Our Work
At Travis Monument Group, we realize just how important the memorials we create are to the families we serve, and we are proud to guarantee our work with warranties like the exclusive Rock of Ages Warranty.
Depending upon the design and granite you choose, your memorial may need service later on. Our skilled artisans are experienced in all aspects of memorial cleaning and restoration to keep your monument looking beautiful.
We invite you to call our office and learn more about how we can help tell the story of your loved one through exceptional memorials.
Schedule Design Consultation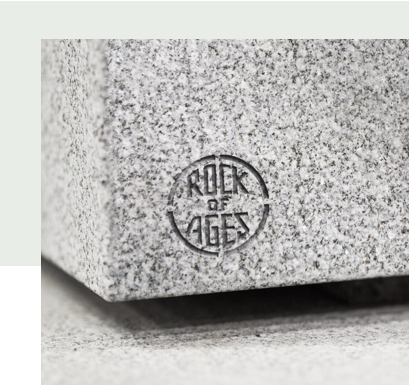 Whether it is a mausoleum or a grave marker we were taught as kids learning the trade, everything we make gets our best work. We don't leave the gravesite until it's perfect.
– Charles Minozzi Jr.
Custom Construction Projects