About Travis Monuments
Travis Monuments serves as our headquarters, hub, and central core of our Travis Monument Group family. From designing to engineering to complex building and construction projects, it all starts here. Each order we receive is filled here. We consider Travis Monuments our "Central Command," allowing us a solid base from which to operate all of our branches.
Travis Monuments is the only Rockland County memorial company that handcrafts and installs its own monuments. In fact, Travis Monuments has crafted more exceptional mausoleums and complex projects than any other monument company in Rockland County. Click below to see the noteworthy projects designed and fabricated by Travis Monuments.
View Our Mausoleums
Our History
While the Minozzi family has a long history of creating beautiful memorials for families, the Travis Monuments location is actually of historical significance itself. Charles Minozzi Sr. purchased Travis Monuments in Nyack, New York, in 1998. It is the oldest of all of our monument companies, still operating from its original location, and it is recognized as the oldest continuously operating monument fabricator in Rockland County.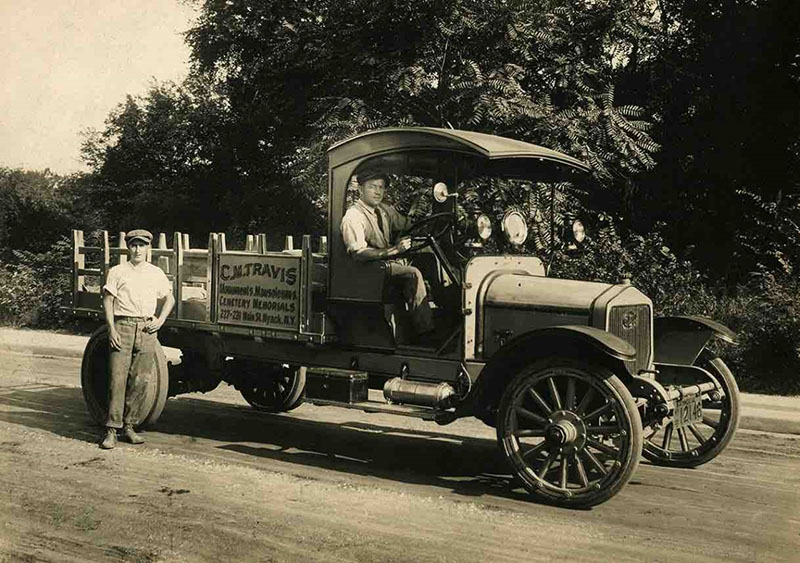 Custom Monument Creation
Travis Monuments maintains a large inventory of display memorials and has access to a varied selection of granite. We pride ourselves on always having a wide variety of monuments on hand to help families decide on the details of their loved one's memorial design.
Laden with tens of thousands of pounds of stone, large truckloads of granite arrive at Travis Monuments nearly every week during the warmer months. Each unique piece of granite is destined to be carefully designed and later carved into a custom memorial for a precious family member.
To further assist you, Travis Monuments is currently designing an innovative, state-of-the-art interactive design studio. Set to be the first of its kind in the region, it will allow families to work with a certified Memorial Counselor to design a monument in real-time.
Visit Us
Monday
Tuesday
Wednesday
Thursday
Friday
Saturday
Sunday
9am-6pm
9am-6pm
9am-6pm
9am-6pm
9am-6pm
9am-6pm
Closed
Sundays & Evenings By Appointment
225 Main Street,
Nyack, NY 10960
Get In Touch Today
Several years ago, after the death of our son, my wife and I went to Travis Monuments to purchase a headstone. I think this was the hardest thing we ever had to do. Charles took us under his wing and guided us through the entire selection process. We were very impressed with the caring and compassionate manner in which we were treated.
– Joe Falcone